Find your perfect smart button
Smart buttons, smart dimmers & smart controllers have become an essential part of simplifying your smart home. They are easily accessible for everyone in the family and very intuitive. You press a button, things happen.
But why buttons? Haven't we gone past this and evolved to voice commands?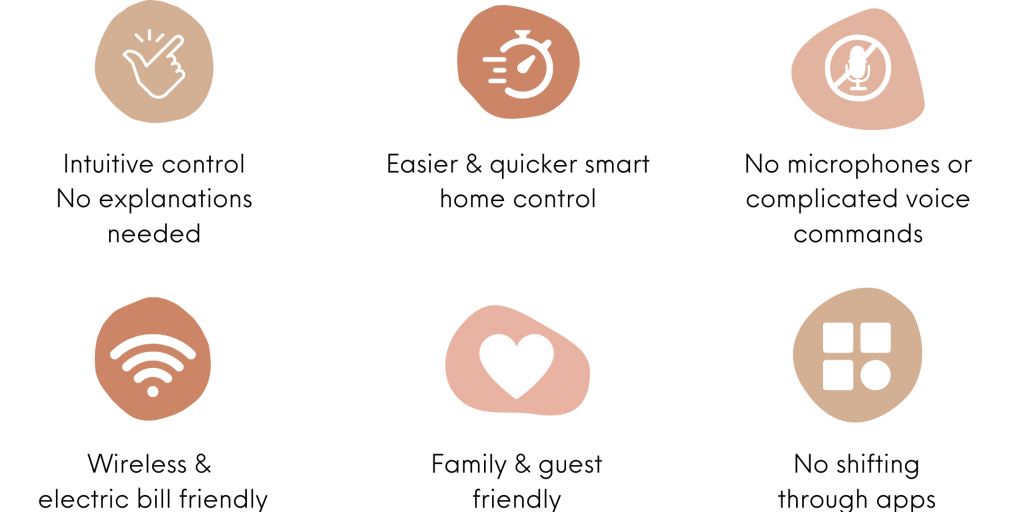 And who doesn't love pressing buttons?


However, with buttons popping up everywhere on the market, it is getting harder to choose which ones are best for your smart home needs. As the creators of the original smart button, Flic, we want to show you how our buttons compare with other great options.
Before getting your hands on some new controllers, there are some questions you should ask yourself:
What kind of triggers do you want?

Toggling on/off vs dimming
Volume control
Smart Blinds
Switch between different set moods
Very complex workflows



What kind of devices do you already have?

Are they compatible with your new smart buttons?
If not, do they have an ecosystem both the buttons and your devices work with? Ex. HomeKit, Alexa, Matter, Homey.



How much of an area do you need to cover?

If I have a large house, do I need more than one hub/bridge?
How long of a distance can my buttons cover?



What is your price range?

Which features do I want to sacrifice?
Do I need complex and fun workflows or do I just want on and off?


Here is a little guide of the most popular & versatile smart buttons:


Our favorite, Flic Button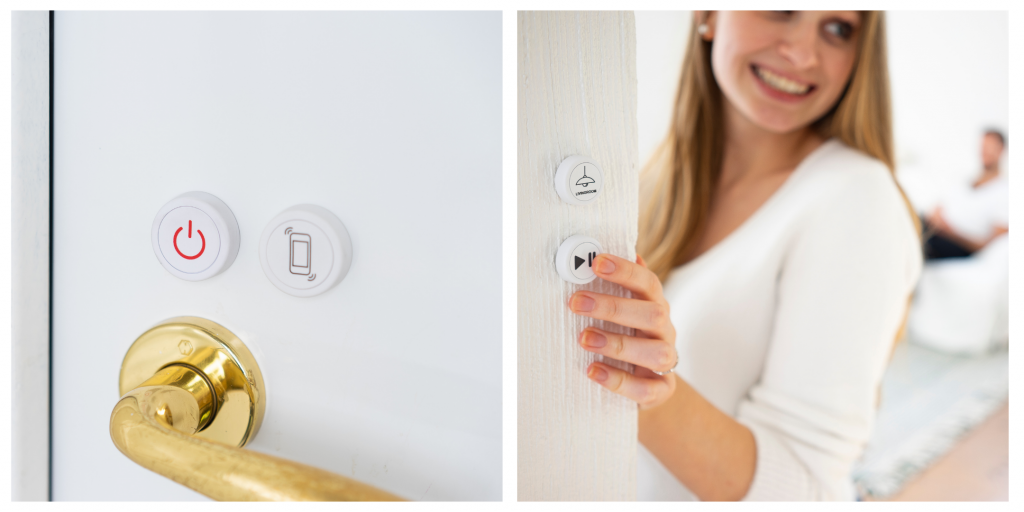 Our Flic is a coin-sized bluetooth button that can control basically any smart device in your home. From lights, to blinds, to robot vaccums, Flic has a workaround to trigger all your favorite scenes. We have integrations with major smart-home ecosystems like HomeKit, Alexa, Homey and SmartThings, making it a non-official Alexa button and HomeKit button. It also works with Phillips Hue, LIFX, Nanoleaf, and so many more smart home players.

We additionally have Matter support coming within 2023, an international smart home connectivity standard where all the companies that have joined, will work also with Flic, for example Google Home, etc.
This wireless smart button can also control your "dumb" IR enabled devices, like TVs or AC systems, with the IR Blaster accessory.
Flic, like the other smart controllers, can also be stuck to almost any surface, and is also splash-proof if you want to change the music while you are showering or want to use it as an outdoor doorbell.
You can customize and label your Flics with our sticker sheet ($4.99), so everyone that comes to your home knows what each button can do.
Our Flic Hub LR (like a bridge) is not needed, but very so recommended for optimal usage & efficiency. One Flic is $29.99, and a bundle of 3 Flics and a Hub LR is currently $160. Get your Flics here.
Flic comes in white, and on special periods of the year also in Black (e.g. Black Friday).
Best for:
Most integrations with smart home companies & ecosystems
3 types of presses: both easy and complicated triggers
Large homes, Indoor range of 50 meters and 100 meters line-of-sight
Completely programmable & customisable
Sticker labels for easy & intuitive use
3-year replaceable battery life

Limitations
A little more expensive than existing solutions, however we do all design, development & logistics in house ❤️

Add some Flic buttons to your home here.


Ikea TRÅDFRI controllers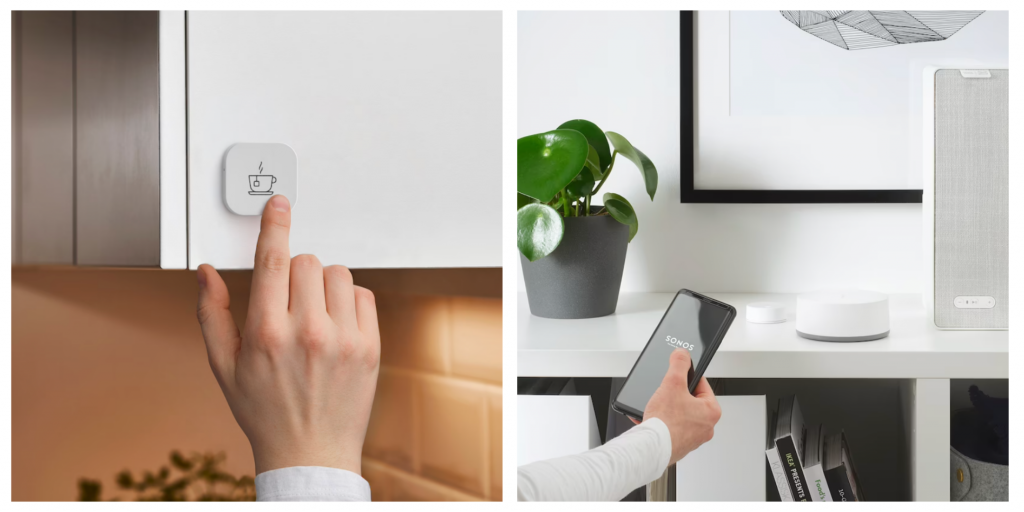 Our friends at Ikea's smart home department have taken off within the last few years with the creation of their TRÅDFRI Line. Each type of controller has different triggers to customize the settings live, so you can adjust it to the perfect mood. TRÅDFRI has different buttons depending on your needs and ways you want to control, such as a dimmer or a volume controller ranging from $12 to $20. This wallet-friendly controller does require a gateway, for around $49 USD.
Best for:
Price range
TRÅDFRI enabled devices (lights, smart speakers)
Easy set up and simple commands


Limitations
Limited to only TRÅDFRI enabled devices
Can only control Blinds, Music and Lighting
Non-programmable
Customizable with limited stickers


Flic also works with all TRÅDFRI enabled devices ✨
Philips Hue controllers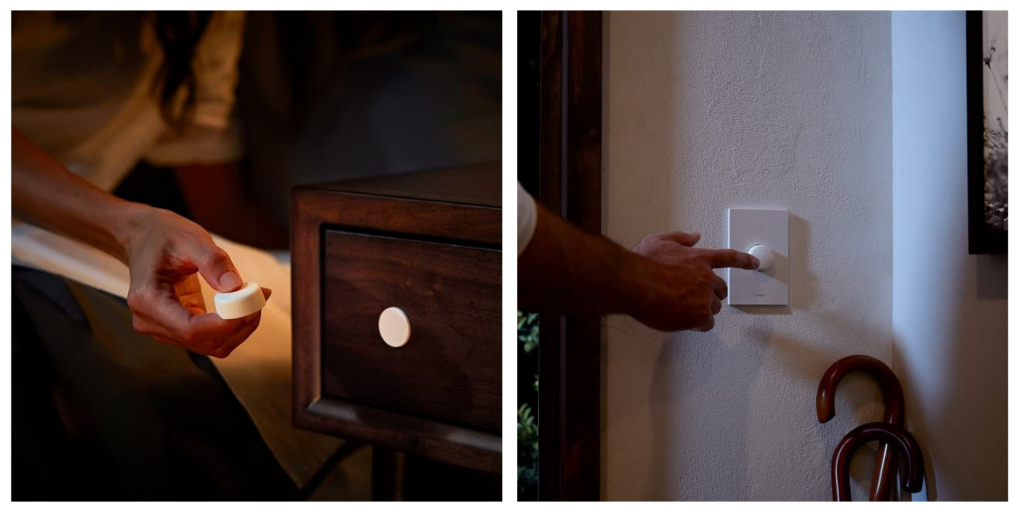 Philips Hue, the creator of some of the best smart lighting products on the market, designed a smart button that controls the brand's devices. The app knows what time of the day it is and will automatically set the right lighting, making it a very intuitive experience.
You can also customize the lighting and settings yourself in their app so you can push the button for your favorite vibe. They are HomeKit and Alexa enabled, making setup much more personalized, but requires their Hue Bridge which is Zigbee enabled. One button will set you back $22 USD and the Bridge is around $50 USD.

Best for:
Philips Hue lighting products
Smart-lighting depending on the time of day
Simple commands (on/off, set a mood)

Limitations:
Limited to Philips Hue lighting products
No other smart home device control (blinds, music, etc.)
Non-programmable
Can't customize appearance
Can only connect 10 controllers to one bridge

Flic also works with all Philips Hue lighting products ✨



Samsung SmartThings Button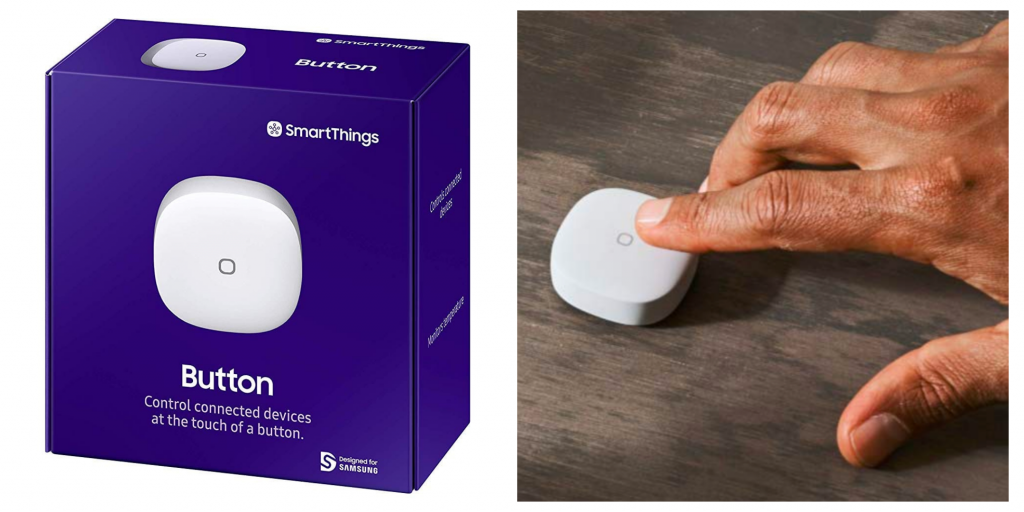 This little button can be placed anywhere indoors and can be programmed for three different functions. One-touch, double-tap or hold down to do what you want. One button is $25 USD and the SmartThings hub is at 90 USD, which is needed just as the others to work with your smart home system.
Limitations:
Limited to SmartThings devices
Non-programmable
Can't customize appearance
And yes, Flic is also enabled with SmartThings ✨


Aqara Wireless Mini Switch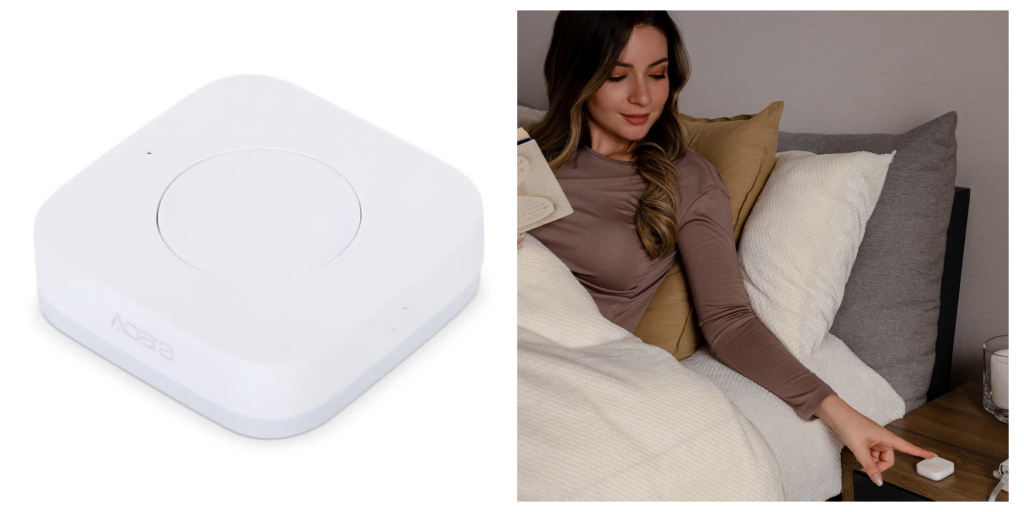 Aqara's wireless mini switch allows you to easily control other smart home accessories with three actions, press, double press and hold. This button has 2 years of battery life and can be configured to use cases such as a doorbell or an emergency button for your loved ones. The Aqara hub is required to use these Zigbee enabled smart buttons.
One Aqara switch is aproximately $15 USD and the required Hub is around $60 USD.

Limitations
Limited to Aqara devices but enabled with Alexa, Google Home & HomeKit
Non-programmable: no advanced workarounds
30 meters indoor range (with the Hub)
Can't customize appearance


Our own smart dial, Flic Twist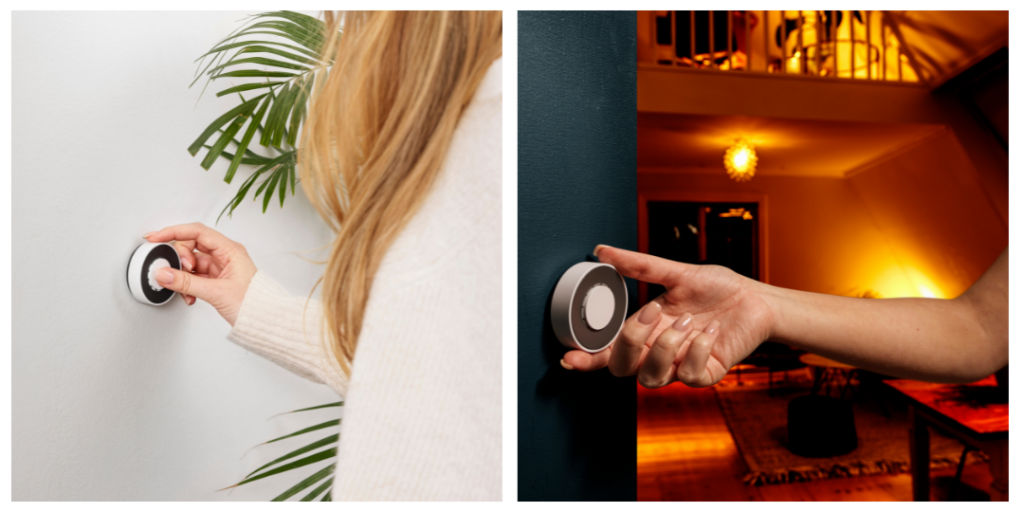 Flic Twist is the new product we developed and it's shipping is expected in Q2 2023. It is a smart dial that allows you to control your home in a whole new way. As you turn the Twist, together with LED feedback, your smart home changes moods.
It is easy to use for anyone, yet packed with innovative features that makes your smart home setup even better than it already is:
Smart dimming: adapts to vivid colors, scenes or different volume settings
Scene Blender: blend between moods to get the perfect vibe
Change volume, songs, playlists, etc.
Select between up to 12 presets
Trigger routines, internet requests, assistant commands, etc.
Flic Twist comes in three different colors & will be the most advanced smart home controller on the market. Along with the Twist, we also created a Hub Mini, which is a more wallet-friendly bridge to work with all your Flic devices.
Best For:
– Becoming a dimming expert (smart dimming, scene blending, selecting)
– Controlling different rooms at the same time
– Controlling music volume, playlists, etc.
– Fine-tuning all aspects of your smart home.
Limitations:
Available for Pre-order here.