Why the Hub SDK may be our biggest release of the year
Most of us see Flic as a consumer brand designed for the smart home, mainly used to control lights, music and routines. Although true, what you probably did not know is that we're receiving daily requests from companies who see the potential in using Flic in ways that we'd never even think of ourselves.

Today, Flic buttons are used in restaurants, hotel receptions, factory production lines, warehouses and much more. The buttons help employees communicate better and more efficiently





Until now, many of these use cases were possible in smaller settings, but creating scalable solutions has been difficult. Setup limitations with the Flic app has made business integrations quite tiresome to set up and monitor – until now.


Meet the Flic Hub SDK and the Device Manager:
The Hub SDK has been in the works for a while now, and we decided to add the Device manager to this as well. This enables a plethora of new capabilities, here are some highlights: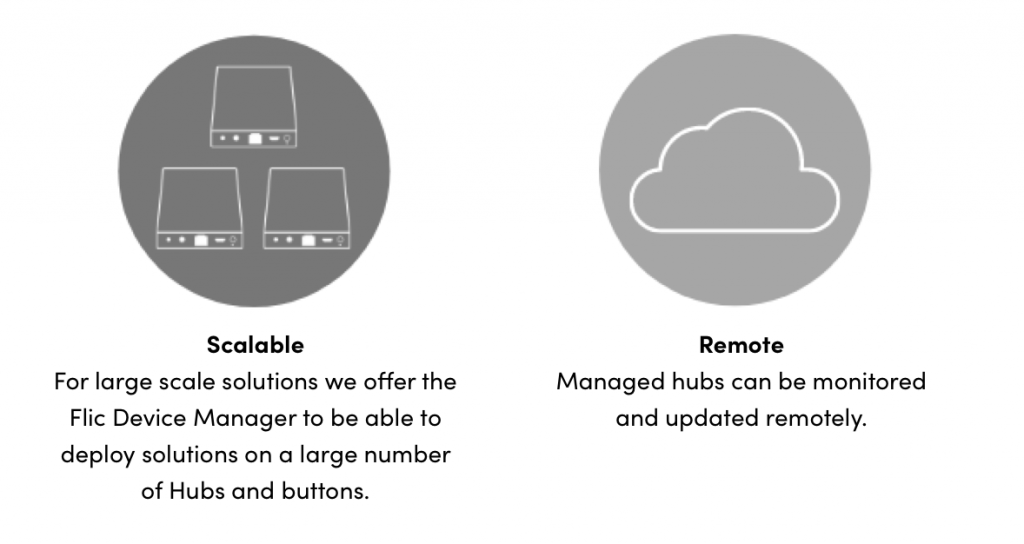 It is finally possible to build your own custom apps (modules) for the Flic Hub LR, whether you'd like a button to trigger a text message, send an HTTP request to your backend or trigger an event in Home Assistant. Basically, it is now possible to write and run your own code on the Flic Hub.



With the Device Manager, you are able to remotely upload your modules to hundreds Hubs through a web interface.



Upload button pairings to remote hubs – it is finally possible to add pairings to a Hub without being within Bluetooth range, you don't even have to be in the same continent to do this. Scan the buttons with your development Hub, assign them to the selected Hub and they'll connect automatically when pushed within range.



WiFi Credentials? We've thought of that as well. Add WiFi credentials through the Device manager before sending the hubs to their final destination. As soon as they're powered up, they'll connect to the selected network.



Bottom line
You can finally build a scalable solution, sell it to your customers without having to visit them to do any custom installment. All they have to do is to plug in their hub(s), and choose where to place the buttons.
One partner who has received early access to the Hub SDK and DM  is a fellow Stockholm startup Pushappy, a rapidly growing platform for sales incentives. They use Flic buttons to register sales activities and results at retail stores and restaurants with a 100% positive result. 

"The Flic Hub Device Manager has allowed us to scale our solution much faster than before. Deployment of our system into large clients such as McDonald's and BAUHAUS Sweden would be almost impossible without it."

– Maxilimilan Müller, CEO of PushAppy.

The hub SDK is available here and the device manager is available through invite.