People like Erik Rosales are hard to describe in just a few words, but we can try; as a Creative Director, Digital Artist, Innovator, Performer, and Host, this talented storyteller has for more than 25 years been pushing the boundaries of what Art can be in the digital age, blending AI and automation with Art and Culture.
Erik Rosales and his friends found their artistic origins on the streets of big cities in Europe and the US. It was there that they gave birth to Sirqus Alfon," an immersive crossover of artistic creation and stage engineering solutions" as they describe it. Their award-winning performances, manage to effortlessly combine elements of interactivity and physical theatre with video and technology. Since 2020, Erik is the Creative Director of Digital Innovation at Kulturhusets Stadsteatern, the biggest cultural institution in the Nordic countries, creating innovative art projects and exploring cutting-edge Technology for Art. Few years ago, he came in contact with us wanting to learn more about Flic buttons and their integration process. Today, we are proud that Erik is one of our partners and the leading force behind our OSC integration.
We visited his latest show "Rebel Royale", which has been on tour in parks around Stockholm this summer, with free entrance for all. A captivating hour-long experience that had us dancing and laughing along a creative journey with people of all ages.
Erik was kind enough to let us backstage and see behind the curtains of this production and we spoke about his artistic journey and how our Flic buttons are used to create interactive wonders on stage.
Starting as a street performer, I was curious how that affected his journey as an artist and his current show. " It's such a tough school because if they don't like it, they walk away ", he tells me. " They are not supposed to do or give you anything. They are usually on their way to work. So they stop and then you have to tear things up and you have to really make some interactivity to make them feel something, and want to be part of it. We want to collaborate. We want the people to be engaged, not just sit and clap."
Being part of the audience was really one of the most engaging and fun experiences. You don't frequently see nowadays people of all ages enjoying themselves and only using their phones to be part of an act. I can't help but ask what's the goal of the show. " Our goal and aim with this project was basically to bring a lot of shows that we have only been doing in black boxes outdoors. " Erik explains. "There are so many interesting ways to just use everyday gadgets and we want to bring magic to everyone's device."
" I'm really trying to push how you can create art, how you can touch an audience, how you can explore new ways of telling a story with the new tech toolsets "
However, planning a show that utilizes tech on tour can be proven quite challenging. " A limitation that we had was that when we started projectors at the time couldn't compete with the sun. That was one of the biggest achievements to actually be able to do outdoors what we have been secretly doing in different theaters. " He explains that as technology is an integral part of the show, there was a need to find solutions that are reliable and affordable. This is where his creativity and passion for innovation really come to life: " We had a LED wall, we had a LED floor, we had LED curtains. It was like a Eurovision kind of setup. It was amazing. The thing was that when a few of the things broke, it was like three weeks waiting time at least to just get new ones. So I need to find new ways to just program the same show. How can I find a workaround? Well, if a phone breaks down, I could just go to a second-hand store or I can even take my own and use that. So I often use cheap electronics, which I can replace anywhere in the world. There are so many things that cost a lot of money but there are affordable ways.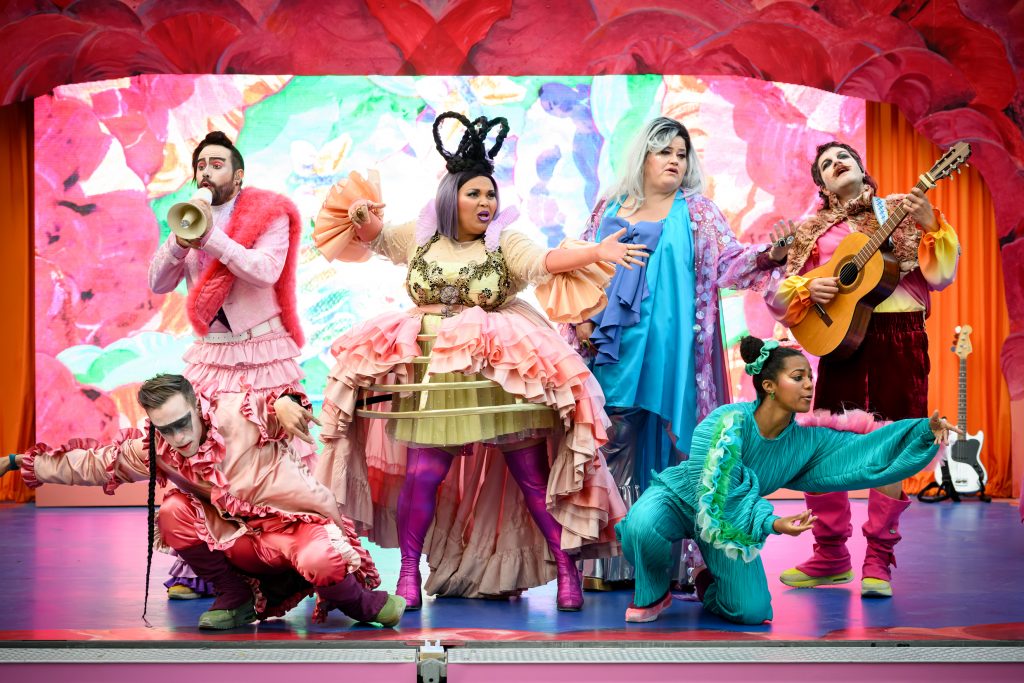 I take this opportunity to ask him about how he came across Flic and how he integrated the buttons into the show. "I found out about Flic a few years ago during a hackathon and I contacted you guys and I asked for a really, really important thing, which is battery status. I can't say before a show that I don't have more batteries. and I have to cancel. That can't happen. I need to know the battery status, which can be seen on the app (…) What I love about Flic is that it's super simple and robust. It hasn't failed me at all "
When it comes to the main benefit of using the buttons, he states:
" I run everything from a Flic button and basically that makes it possible to tour the world because otherwise I would need to have a lot of tech engineers running the show with a lof of computers. Now I can be the only tech engineer, being on stage. So a lot of shows can be enhanced with this. "
Before we conclude the interview, I ask him what advice would he give to anyone who wants to experiment with Tech. "You can do so much nowadays with so little money like tech is everywhere. And like if you have a great idea, there are so many ways to achieve this. Don't just follow what manuals say. Do it the other way around and you will learn something. Maybe it will break three times, but the fourth time it may be worth all the struggle you've been through."
As to what the future brings for our collaboration, Erik is full of ideas and excited about Flic Twist and how it can be implemented in his shows. To use his words before we left "Stay in touch, and let's create wise madness together". We most certainly will.
To learn more about how Flic buttons work with OSC visit our dedicated page or contact us and we will love to tell you more!